Russia, Chelyabinsk
(View map)
Less than 1 year old on Allbiz
Description
Stove with 4 burners. 700 ser. apach apre - 77qp
Reference: 111815
Height

850 (mm)

Length 700 (mm)

Width 700 (mm)

Voltage 380 (V)

Power 12 (kW)

Net weight 82 (kg)

Gross weight 89.5 (kg)

Package height 1050 (mm)

Packaging Length 900 (mm)

Shipping Width 900 (mm)
Country of origin - Italy
Official warranty 12 months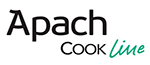 DESCRIPTION
COMMENTS 0
Electric stove, manufactured by Apach (Italy), model APRE - 77QP, is designed for cooking various dishes.
The working surface of the gas stove is made of stainless steel AISI 304. The working surface consists of four tall cast iron burners measuring 300x300 mm. The power of each hotplate is 3 kW. The electromechanical control panel is located under the work surface on the front panel. This location is more convenient for the work of cooks (control is "at hand"). A thermostat is used to smoothly change the heat output. A temperature limiter acts as a protection system.
APRE - 77QP is a floor standing model. The stove is installed on an open base. The body is made of thick stainless steel. The device has a total power of 12 kW and operates from a network with a voltage of 380 V and a frequency of 50 Hz.
Contact the seller
Stove with 4 burners. 700 ser. apach apre-77qp