Less than 1 year old on Allbiz
Technical characteristics
Country of manufacture

Russia
Description
Manufactured in accordance with the requirements of TR CU 010/2011, FNP PB OPO, TU 5225 - 007 - 55355339 - 2006.
Warranty period: 6 months from the date of commissioning in case of one - shift operation.
Appointment
The gripper Smal's lock is not an independent load - gripping device and is used in conjunction with slings. The Smal lock is convenient for unhinging loads at a distance in a space that is limited in size and in places that are hard to reach for a slinger (for example, at a height).
Design
Smal's lock is a pin - sling mechanism. It is used in conjunction with various types of slings (rope, textile, chain) as a gripping body. A pin lock is located between the cheeks with additional collapsible fingers.
Slinging of goods is carried out by the "strapping" method, or for technological openings and lugs provided in the structure of the cargo. Unslinging occurs remotely by pulling the movable pin with a guy line.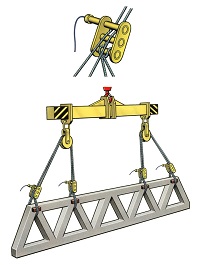 Contact the seller
Smal Castle