Mounting blocks for rope
Reconfirm the price with seller
Invoice payment,
Visa/Mastercard,
Cash on delivery,
L/C - Letter of Credit,
D/P - Documents against Payment,
D/A - Documents against acceptance
Customer pickup,
Courier,
Transport company
Less than 1 year old on Allbiz
Technical characteristics
Country of manufacture

Russia
Description
Manufactured in accordance with the requirements of TR CU 010/2011, FNP PB OPO, TU 5225 - 008 - 55355339 - 2006.
Warranty period: 6 months from the date of commissioning in case of one - shift operation.
Appointment
The rope block is specialized for use in small construction to facilitate lifting and installation work. This simple and reliable equipment allows lifting of various loads using synthetic or hemp rope.
The assembly block for the rope serves to facilitate the lifting of the load, as well as change the direction of its movement.
Design
Rope blocks are available with an eyebolt or a hook. The hook on the block rotates around its axis using a swivel. The block has a wide pulley, which makes it possible to use a rope with a diameter of 16–20 mm.
The folding cheek allows you to store the rope in the block at any length.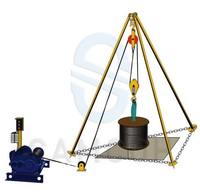 Contact the seller
Mounting blocks for rope