Milk pasteurizer stationary PS-700
Reconfirm the price with seller
Technical characteristics
Brand

Салутем, ООО

Country of manufacture

Belarus

Color

-

Wattage

- W

Productivity

- g / min
Description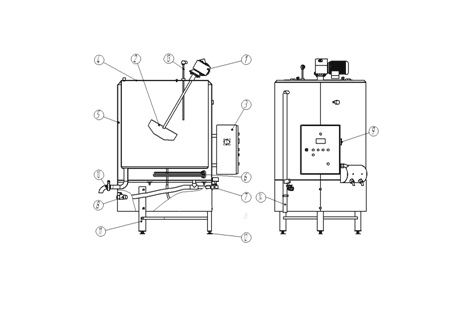 1 - motor - reducer; 2 - agitator; 3 - control unit; 4 - cover; 5 - water jacket; 6 - a heating element; 7 - water supply valve; 8 - water drain valve of a shirt; 9 - load switch; 10 - drain valve; 11 - frame; 12 - support adjustable; 13 - thermocouple; 14 - overflow hose
In your request, we can produce your desired volume pasteurizer ! ! !
Pasteurizers from 50 - 600l almost always in stock!
Production time pasteurizers in the absence of stock 7 - 15 working days.
Production time pasteurizer over 600l - 15 - 20 working days!
General characteristics:
1. Capacity for pasteurization is made of stainless steel (AISI 304);
2. The presence of agitator motor (for uniform heating of the container contents);
3. Availability of the operator interface dustproof moisture - protected (IP55 according to international standard), fully in Russian;
Pasteurization:
1. Heating occurs through heating the water jacket, which excludes the possibility of sticking of milk to the container walls. The water jacket located on the entire area of the vessel (and bottom wall) that gives better heat exchange rate;
2. The whole process is fully automated pasteurisation. Enough to enable network device, press the start button and equipment without interference will heat the contents to a predetermined temperature, survive the pasteurization temperature, and to cool the drinking water temperature.
3. The heating cycle to cool the milk to the drinking water of temperature takes 1 h 20 min. ). :
· Heating milk to a predetermined temperature: 25 - 30 minutes (62 ° C default)
· Pasteurization time 30 minutes by default
· The cooling time of the milk to 40 ° C: 25 - 30 minutes
· Automatically maintains the temperature of the drinking water, after pasteurization.
4. automatically maintains the set temperature (the temperature of the drinking water), after pasteurization.
5. pasteurisation temperature set by the user freely within 60 - 85º C / Dwell time 10 - 60 minutes;
6. Start function pasteurization at a specified time
Security :
1. The presence of a mushroom button "STOP". According to the requirements of technical regulations on the safety of machinery and equipment;
2. Have the overpressure valve in the jacket;
3. Have protection against inclusion of heating elements without water in the jacket;
Economic benefits:
1. With the pasteurizer can sterilize any milk including from sick cows.
2. feeding calves pasteurized milk will strengthen the immune system and in the future will save money on drugs.
3. After the pasteurization process, you also get 300 liters of hot water, at no additional cost. which can be
Advantages of working with us:
We produce equipment with a complete set of features and your needs.
The warranty on the container: 20 years.
Product Warranty: 12 months.
After - sales service. All components are always available. No delivery expectations. You can leave a specialist for on - site repair of equipment. Moreover there are contact phone number of the service center on each equipment. So we leave the relationship with the client, and in the event of a breakdown, you will not be left alone with the problem.
The certificate of conformity TR CU №TS RU C - BY. AV24.V.06786
Production is located at: Republic of Belarus, Minsk, ul. Fabritsiusa d.2
Ready equipment is available.
Contact the seller
Milk pasteurizer stationary PS-700