Less than 1 year old on Allbiz
Technical characteristics
Country of manufacture

Russia
Description
Manufactured in accordance with the requirements of TR CU 010/2011, FNP PB OPO, TU 5225 - 008 - 55355339 - 2006.
Warranty period: 6 months from the date of commissioning in case of one - shift operation.
Appointment
Lightweight mounting blocks are intended for use in assembly, construction, rigging works as suspended, supporting, tap - off blocks. It is used to reduce traction force, change the direction of traction, limit sag of lines. It can be used both as a separate mechanism and as an element of the chain hoist.
Design
Mounting blocks consist of a roller, the axis of which is located between two plates (cheeks), reinforced with rods, the execution of blocks is possible: with a hook, with a pin.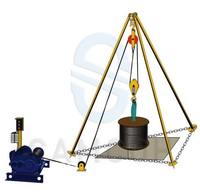 Contact the seller
Lightweight blocks