Less than 1 year old on Allbiz
Technical characteristics
Country of manufacture

Russia
Description
Manufactured in accordance with the requirements of TR CU 010/2011, FNP PB OPO, TU 5225 - 008 - 55355339 - 2006.
Warranty period: 6 months from the date of commissioning in case of one - shift operation.
Appointment
Many works in production require mechanisms for lifting or moving loads of various types in the process of work with which minimal effort on the part of personnel is required. The assembly block is an element of the lifting mechanism.
It is used to change the direction of traction and reduce tractive effort during rigging. It is used in mechanisms with both manual and electric drive.
Design
Mounting blocks of a closed type consist of a roller, the axis of which is located between two plates (cheeks), reinforced with rods, the execution of blocks is possible: with a hook, with a pin.
Folding cheek mounting blocks facilitate the process of rope reeving and thereby reduce the time and labor costs associated with their use. For small - diameter ropes, the folding cheek is not always an actual mechanism, however, under certain conditions (for example, when working at height), it greatly facilitates the work.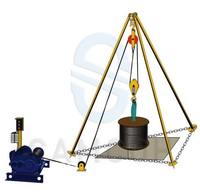 Contact the seller
Closed blocks