Technical characteristics
Brand

Мир ремней

Country of manufacture

Belarus

Construction

Whole

Type

Mechanical

Color

In assortment
Description
If you have torn fabric treadmill - do not rush to despair! In "World of Belts" you can buy a tape (cloth) for the treadmill of any size and model. Pick up the tape to the very rare machine. Wholesale and retail. Office and warehouse in Minsk, give a firm guarantee, there is delivery to the regions.
Company Head Office is located in Minsk, Belarus, working with all organizations and companies from Russia, Kazakhstan, Ukraine and other CIS countries. We have a fast and uncomplicated delivery of transport companies.
Canvas for sports simulator (treadmill)
Today there is a real increase in interest in a healthy lifestyle (HLS). In the houses of the people there are more fitness equipment. It opens many halls for training with such machines. One of the most common - a treadmill. It is an endless short (closed) conveyor belt, which is rotated by the running man (inertial) and active drive. Using them is simple and convenient, the health benefits enormous.
But here's the problem - in these simulators quickly wear fabric. Especially at racetracks installed with fitness centers. Wear running cloth can lead to sad consequences, which are expressed in overheating of the engine, axle damage, failure of the entire simulator. Our company offers not to reach such a time to change the blade.
If your machine is broken blade, do not just look for online spare part producers to call. Tell you a secret - all treadmills use standard conveyor belt. As an official representative of the largest manufacturers of these products, we can produce the fabric for any treadmill.
Buy a tape simulator in Minsk, the web treadmill
For treadmills use a special material used in the industry for special conveyor years. The web is of varying thickness, from 1 to 2 mm. It has a complex structure:
The topsheet made of rubber or PVC, very wear - resistant, while still creating a secure bond with the running shoe in place human;
The core of the belt - reinforcing thread, it is made of durable synthetic material;
Followed absorber layer;
The inner layer - textile (polyester), which is responsible for coupling with the machine rolls.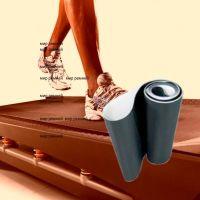 For economy simulators with thin webs may be applied a two - layer web.
The main condition create a solid treadmill - loopback. Compound belt of desired length is produced on imported equipment by a special technology. The ends of the tape carefully prepared and connected to a noticeable seam without education. Thus excluded jerks when scrolling, which ensures a long service life. Strength of the tape in the joint between the inferior - piece material is only 10% . We also cut the cloth of the necessary width and process edge.
Contact the seller
Canvas for sports simulator (treadmill)