Blocks with mounting pad
Reconfirm the price with seller
Invoice payment,
Visa/Mastercard,
Cash on delivery,
L/C - Letter of Credit,
D/P - Documents against Payment,
D/A - Documents against acceptance
Customer pickup,
Courier,
Transport company
Less than 1 year old on Allbiz
Technical characteristics
Country of manufacture

Russia
Description
Manufactured in accordance with the requirements of TR CU 010/2011, FNP PB OPO, TU 5225 - 008 - 55355339 - 2006.
Warranty period: 6 months from the date of commissioning in case of one - shift operation.
Appointment
The mounting block with a platform for fastening is used to increase the lifting capacity of the chain hoist, to change the direction of traction of lifting equipment. A block with a platform is used as part of a chain hoist with fastening in a horizontal plane.
Design
The platform allows you to fix the block in the required place using four points, for which there are technological holes. A roller with or without a bearing can be used in the design of the block.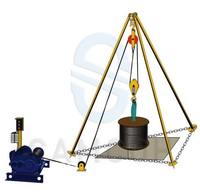 Contact the seller
Blocks with mounting pad